How One Young Artist Is Creating Converts to Classical Music at the Airport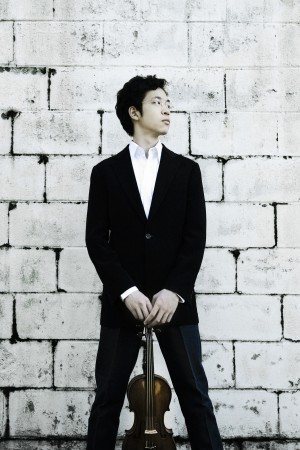 Camerata Pacifica, the area's premier chamber music ensemble, begins its 24th season on Friday, and its programming is as adventuresome as ever. Alongside masterworks by Mozart and Beethoven are numerous works from recent decades, plus several world premieres. Rather than Bach, we'll hear Auerbach.
If you're looking through the season-opening program and thinking, "I have no idea what any of this will sound like," don't feel bad. Neither did one of the principal performers.
"I knew [American composer] John Harbison's name, but I was not familiar with his music at all," admitted violinist Paul Huang. "But I'm finding it very interesting. I gather he was very much influenced by Stravinsky, and I do find similarities."
Friday's concerts (at 1 and 7:30 p.m. in Hahn Hall) feature two works Harbison wrote in the 1980s. That makes them older than Huang, who was born in 1990, but has already established himself as a major artist. "He sounds like a wire filament: lithe but with a metallic bite," the New York Times wrote when he made his New York recital debut late last year.
His connection to Camerata was through cellist Ani Aznavoorian, who recommended him to artistic director Adrian Spence. (He's also friends with several of the group's other principals.) And Huang didn't hesitate to accept the invitation.
"Eighty percent of my season consists of concertos and recital dates," he said. "I grab every chance that I get to play chamber music. Playing it allows me to develop and grow musically. It's really the pinnacle of music-making."
A native of Taiwan and resident of New York City, Huang grew up surrounded by music. "My parents are great music lovers," he said. "Every room in our house back in Taiwan has a CD player! We used to rotate recordings between the rooms."
He rejected the violin after an initial lesson at age 4, opting to take up the piano. But at 7, when his parents took him to hear a violinist, "something just clicked. It was one of those moments. I had heard many other violin recitals before, but the moment was right.
"I felt so inspired by the sound of the violin — that this little wooden box could project, without amplification, through this amazing hall. I found it so powerful and communicative. I told my parents that I wanted to play the violin."
He began taking lessons, and soon his teacher, a Juilliard School graduate, was pressuring his parents to let him study abroad. When he was 14, he and his mother moved to New York, where he joined Juilliard's pre-college program. Eight years later, he's still at the prestigious school, now in the master's program.
As a young artist, Huang has noticed his audiences tend to be a lot older in the U.S. than they are in Asia. He admits the subtler joys of this art form are a hard sell in our instant-gratification culture, but he's doing all he can to spread the word.
"I spend a lot of time in airports, and I always am carrying my fiddle," he said. "People are always curious about it. When I'm waiting in line, say, they'll come up to me and ask, 'What's that? Is that a guitar?' I always grab the chance to communicate with whoever I come across to spread the word about how great classical music is."
So how does he entice wary novices?
"I say to them, 'Do you know Vivaldi's Four Seasons? Ninety percent of them say yes. There are cell phone ringtones featuring that music! So it's a place to start. I explain to them it's a baroque piece written for a string ensemble and violin solo. The violin imitates sounds of nature: the birds, a stream, a dog barking. It becomes very pictorial to them, and they can relate to it.
"Hopefully, at the end of the conversation, when they go home, they will go on YouTube and check out a performance."
And if all goes well, they'll gradually wind their way from Vivaldi to John Harbison, whose music is featured on Friday's bill. Huang will join Spence, Aznavoorian, pianist Warren Jones, and clarinetist José Franch-Ballester for his Songs America Loves to Sing, which incorporates such favorite melodies as "Amazing Grace" and "St. Louis Blues." He'll also perform the Four Songs of Solitude for solo violin, which the composer wrote for his wife.
"I find the title very poetic," he said. "It's very lonely when you're onstage by yourself, playing a 15-minute-long work! The piece is a mirror, a reflection of both the composer and the artist who is playing.
"In some ways, it's quite the opposite of what we think of as a contemporary piece. It's very melodious, very lyrical. In some ways, it's quite traditional, but it's very demanding for the violinist. He uses a lot of unusual intervals and leaps that we violinists are not used to playing. I love it very much."
Tom Jacob

Santa Barbara Independent