Review
Historic Violin, Intense Virtuoso add Fire to BPO Concert.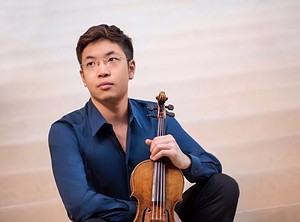 It's early in the Buffalo Philharmonic Orchestra's season, but I am going to make a prediction.
I think that in June, when we look back and take stock of the year, this weekend's concert will emerge as one of the highlights. There is the passionate performance of Rachmaninoff's seldom-heard Symphony No. 3. And a very lovely creation of Buffalo native Robert Paterson, called "Dark Mountains."
And what really put the concert over the top is Taiwan-born violinist Paul Huang playing Samuel Barber's Violin Concerto.
At the Oct. 12 Coffee Concert in Kleinhans Music Hall, it was almost too intense for the time of day. Soloist and orchestra, led by Music Director JoAnn Falletta, gave the piece their all. Huang was a study in concentration. Tightly wound and unsmiling, standing stone still a lot of the time, he played as if his life depended on it.
His technique was splendid, and his playing was pure and straightforward. The violin he was playing added another dimension.
We are spoiled as far as violins are concerned. Touring violinists almost all perform on impeccably pedigreed instruments, typically from the 18th century. Even so, this one had such a rich and sweet sound that I had to glance at the program and see what it was.
Lo, it was the 1742 ex-Wieniawski Guarneri del Gesu, once owned by the great Polish virtuoso Henryk Wieniawski, and on loan through the Stradivari Society. This is shaping up to be a wonderful year for violins, by the way. On Nov. 10 and 11, Spanish violinist Francisco Fullana will be playing Paganini on the 1735 "Mary Portman" ex-Kreisler Guarneri del Gesu, owned by Buffalo philanthropists Clement and Karen Arrison. I am psyched.
Anyone would be, after hearing Huang playing that Barber concerto. It grabbed you right from that melting opening line. Huang was assured and expressive. The Philharmonic followed suit. You got the sense that everyone was working together, everyone was in it to win it.
The slow movement was lovely, beginning with that beautiful oboe solo. And excitement peaked with that perpetual motion finale. This has to be a bear for a violinist, with all that back-and-forth arm motion. Huang threw himself into it, as did the orchestra, and together they built up a panting energy.
Things ratcheted up as the music went on. Honest, just listening to the piece can affect how you sit, how you breathe. The ending was a thrill. It was as if someone had popped a champagne cork. Everything changed. After carrying off that last note, the previously stone-faced Huang burst into a grin of pure joy. He whirled around and hugged Falletta. The crowd rose and cheered. The orchestra string players, paying him the ultimate compliment, began beating on their stands with their bows. Huang began applauding them and Falletta. Everyone was cheering and celebrating.
After all that, would you believe, no encore? Well, maybe Huang felt nothing could follow that. I am not sure anything could.
Even so, the music that rounded out the program had its own allure.
Robert Paterson's "Dark Mountains," beginning the concert, was commissioned by the Vermont Symphony and is meant to invoke the experience of driving through the Vermont mountains. Lucky me, it happened that the friend who joined me for the concert had just returned from a Vermont road trip. She said Paterson accurately captured the ambiance.
And that ambiance was beautiful. Paterson is uncommonly talented. He is also humorous and self-deprecating.
"You don't have to know anything about this music. You don't need a degree," he told us before the performance. He was right. The music reaches out to you. It was serene, reflective and gently colorful. It had a distinctively American sound. Sometimes, with its skilled use of woodwinds, it could remind you of Aaron Copland. But it's best not to overthink it, simply to enjoy it. I was wishing it did not have to end when it did. I would have happily heard more.
Rachmaninoff's Symphony No. 3 dates to 1936, the same era as the Barber concerto. Both pieces, coincidentally, were late to the BPO table. The Barber made its Classics Series debut in 1976, with Michael Tilson Thomas and Charles Haupt, the orchestra's longtime concertmaster. The Rachmaninoff did not get its turn until 1993.
In the case of the Rachmaninoff symphony, it is not hard to see what took so long. This symphony does not immediately enchant you the way Rachmaninoff often does. Music is music, though, and what Paterson said about his piece applies to this one, too. You don't need a degree to appreciate it. Simply enjoy.
There is a lot to keep your attention. Many of the BPO's musicians take their turns in the spotlight. Cheryl Losey-Feder, our new principal harp player, charmed with her solo in the second movement. Eunice Keem, guest concertmaster this week, commanded attention with her solo, too. There were subtle woodwinds and robust brass.
Over and above such details, the piece had the kind of grand passion that could not help but draw you in. It had it all -- those mournful Russian melodies and cascading waves of sound so typical of Rachmaninoff -- and, finally, that crazy Rachmaninoff ending designed to send you out into the real world ready to take on anything.
The concert repeats at 8 p.m. Oct. 13 at 8 p.m. at Kleinhans Music Hall.
Mary Kunz Goldman

The Buffalo News