Review
Markus Stenz puts a firm mark on Grant Park Music Festival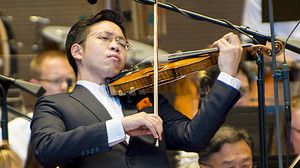 More than 20 years ago composer Alan Stout observed that for at least 20 years before then the contemporary work on American concert programs tended to be the first, shortest and lightest piece played, serving the same function that upbeat overtures did in earlier times.
The program for Friday night's concert at the Grant Park Music Festival seemed about to follow that pattern, with the festival premiere of Detlev Glanert's "Frenesia" (2013), a 19-minute orchestral work scheduled by guest conductor Markus Stenz to open the evening.

But while the composer is big on accessibility, "Frenesia" (Italian for frenzy) was all the more welcome for not being an essay in comfort music. Yes, Glanert has developed a language between the poles of Gustav Mahler and Maurice Ravel, but its philosophical underpinning is as unsettling as befits the 21st century.
"Frenesia" begins with a loud, full-orchestra chord that recalls the start of Richard Strauss' "Ein Heldenleben." However, the reference to heroics is dissonantly broken down before the music suffers a series of quiet collapses. The inspiration seems to have been the finale of Mahler's Sixth Symphony, which gathers strength repeatedly only to be struck down again. But much of the muscularity of Mahler has been replaced by the glint and delicacy of Ravel. And for Glanert contemporary composition may go beyond exhilaration to a good deal of plaintive mewling and even a whimper.
Paul Huang, a hypersensitive soloist in his late 20s, and Stenz provided the evening's balm: Samuel Barber's Violin Concerto, an audience favorite that regularly keeps more challenging American concerti (by, say, William Schuman or Roger Sessions) off concert programs. This listener does not recall any performance of the Barber, live or recorded, with greater flexibility and inwardness. The first two movements proved tender in the extreme. The presto finale was tossed off lightly, without mood-shattering angularity or trenchancy.
Alan Artner

Chicago Tribune