Feature
Musician Paul Huang: " Finding a voice in the violin was a revelation"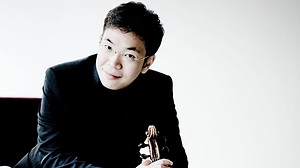 Paul Huang is so busy performing as a guest violinist with orchestras and in chamber ensembles around the world that he spends little time in his New York apartment. But when he does, he enjoys entertaining.
"I love cooking and inviting friends over," said Huang, who will perform a La Jolla Music Society concert at TSRI Auditorium on Sunday. "I don't do it enough. A lot of my friends are musicians, so it's a rare occasion when I can cook at home."
Although he was there at the time of this interview, cooking was not on the agenda. Huang was busy rehearsing with pianist Helen Huang (no relation), who will join him on an eight-concert tour of Asia and North America, including Sunday's performance here. The two musicians are from Taiwan, met as young children and are now friends and collaborators.
When the violinist was 3 or 4 years old, he hated the instrument he has come to love and play so expertly. When his parents first took him to violin lessons, they later told him, it didn't work out too well.

"It was awkward to hold the violin," Paul Huang said. "The first couple of weeks, you can only make scratchy sounds. No beautiful melody comes out. So, I told my parents: 'No.'
But at the age of 7, Huang's parents brought him to a concert and everything changed.
"I was entranced by this wooden box that sounded so close to a human voice," he recalled. "I was mesmerized by seeing the violinist onstage. I started lessons again on my own will.
"As a shy kid, finding a voice in the violin was a revelation. I could connect with people without using words. I knew then that that's what I was going to do."

Huang, 27, was the recipient of the prestigious 2015 Avery Fisher Career Grant and the 2017 Lincoln Center Award for Emerging Artists. A member of the globe-trotting Chamber Music Society of Lincoln Center, he is also the principal violinist in Santa Barbara's Camerata Pacifica.
Primarily a concerto performer with orchestras and at music festivals, Huang appeared last November at Jacobs Music Center's Copley Symphony Hall as the featured violinist on tour with the Taipei Symphony Orchestra. In 2016, he played at the La Jolla Music Society's SummerFest and is set to return this year.
"My very first teacher in Taiwan introduced me to chamber music. I continue to enjoy making music with friends. Concerto performances are larger and exciting, but chamber music is very fulfilling to me."
Huang's program here on Sunday will begin with Dvořák's Sonatina, Op. 100, followed by Prokofiev's Sonata in F minor.
"The whole idea started with Helen and I wanting to play Prokofiev," he explained. "The piece is not played as often as it should be. Prokofiev's F minor is like an epic Russian novel — dark, tragic and meaningful."
Huang said the music is "quite heavy" before the intermission, but the second half will change the mood.
"The concert ends with Saint-Saëns' Sonata in D minor, which is colorful and virtuosic," he said, adding that the popular piece is back in his repertoire after a break of several years. "To bridge the emotions from Prokofiev to the Sonata, we came up with two little pieces. Whenever there's a recital program to curate, I approach it like we're preparing a dinner menu for friends.
"You have an appetizer, an entree, a palate-cleanser, and then something that's delightful and virtuosic at the end. The audience will enjoy a diverse range of sound worlds and see what the violin and piano can do."
Beth Wood

San Diego Union-Tribune