Omaha Symphony showcases the work of three musical prodigies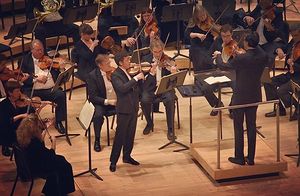 [....]The second part of the program was the Violin Concerto No. 4 in D Major by Wolfgang Amadeus Mozart, perhaps the most famous child prodigy of all time. This piece was not what a classical audience might expect on a night of such "prodigious" selections. There wasn't a great deal of thematic exploration or harmonic surprise. Mozart's brilliance instead shone through the sheer and lovable melodies he introduced one after another, then each of them over and over again.
During the Mozart, in his Omaha debut, 27-year-old Taiwanese-American violinist Paul Huang was triumphant. The audience was in awe as Huang explored each melody and cadenza on his instrument.
When he played alongside the ensemble, they seemed to sing as a single instrument. When he explored the motives of the piece socialistically, he reached bold and delicate extremes. At the conclusion of the Mozart concerto, the audience gave an immediate standing ovation to close the first part of the evening. [...]
Drew Neneman

Omaha World-Herald